The Volvo XC90 has been named a Car of the Decade by experts at Autotrader, the most recognized third-party car listings brand. It is the only luxury SUV to make the independently-chosen list.
According to Autotrader the XC90 that debuted in the 2015 model year is the perfect example of a modern vehicle primed for the future. It has a range of turbocharged, supercharged and electrified four-cylinder engines and offers good efficiency, a modern, minimalist interior, loads of connectivity and safety features, and unique Scandinavian elements like an available wool-blend interior.
·         Three-row SUV stands alone as the only luxury SUV on 15-vehicle list
·         Win adds to North American Utility of the Year and Motor Trend SUV of the Year awards
·         Design, hybrid powertrain were significant factors
"The Volvo XC90 is one of the best cars of the decade because it's a spectacular luxury SUV that kicked off a long line of fresh new vehicles forever changing the course of the Volvo brand," said Brian Moody, executive editor for Autotrader. "The XC90 effectively elevates the entire brand to a true luxury position, it's the full embodiment of all that Volvo can do right. The XC90 is a perfect example of how design restraint actually adds to the allure of a given vehicle. Both inside and out, the Volvo XC90 is tasteful and luxurious. Add to this a suite of advanced driver assist technologies and the Volvo XC90 becomes a compelling plot point in a long running story of Scandinavian style, engineering and fun that has become the Volvo of today and tomorrow."
The XC90 was named 2016 North American Utility of the Year and 2016 Motor Trend SUV of the Year, on top of more than 100 other awards from around the world.
The XC90 represents the essence of what a modern Volvo can be, and is Volvo's most popular vehicle in the United States. For the 2020 Model Year, the XC90 has been completely refreshed and a 6-seater variant has been added, allowing for easier access to the third row of seats.
The XC90 features a confident, luxurious take on traditional Scandinavian design. The exterior has a strong stance with a subtle, timeless quality and balanced proportions. The interior is a masterful composition of relaxing design, beautiful materials, and the very latest technology - all perfectly blended together.
The gas-powered T6 turbo- and supercharged engine provides 316 horsepower and the T5 turbocharged engine delivers 250 horsepower. The T8 Twin Engine Plug-In Hybrid offers a combined 400 horsepower and does not compromise interior space, providing the same cargo area and seven seating positions as all XC90 models.
The XC90 is built on the company's Scalable Product Architecture SPA which allows for excellent proportions, exemplary safety, and a luxurious driving experience. The XC90 features:
• Striking exterior design with a confident stance
• Luxurious interior with a clear Scandinavian design influence featuring natural materials
• Intuitive 9" Sensus Connect Touchscreen and 12.3" Digital Driver Display
• Advanced Intellisafe City Safety features, including standard Pilot Assist, Oncoming Lane Mitigation, BLIS with Steering Assist, and Cross Traffic alert with Autobrake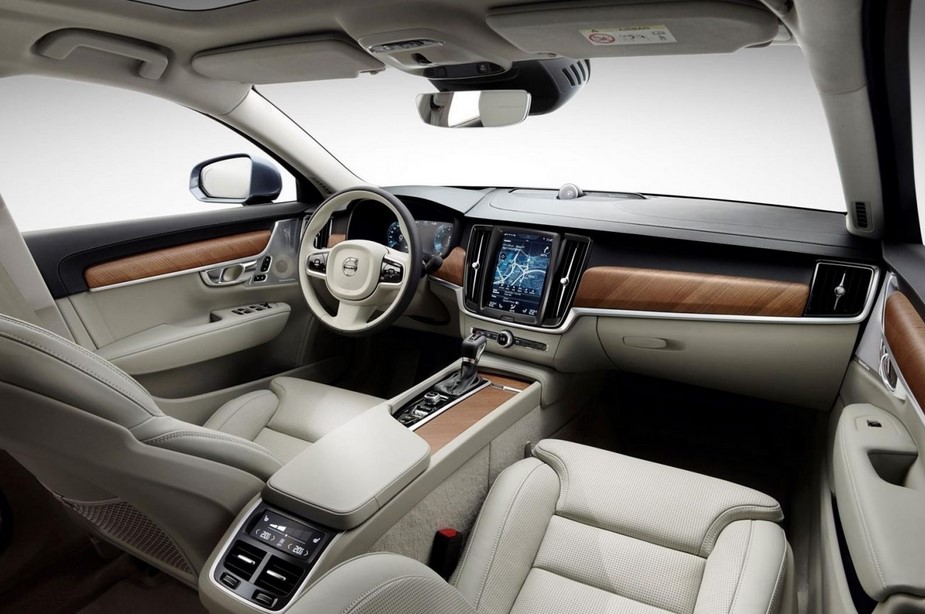 Highlights Overview
Since its introduction for Model Year 2016, the second generation XC90 has received a host of upgrades, new features, and improvements. While Model Year 2020 marks the first full refresh, the XC90 line has been continuously enhanced throughout its first four years on the market.
For 2020, the XC90 features new concave front grille design, restyled front and rear bumpers, new Gloss Black R-Design theme and all-new wheel designs.
Standard equipment added includes a 12.3" Digital Driver Display, integrated roof rails, integrated tailpipes, 19-inch wheels, Road Sign Information, increased battery size (11.6 kwh) on T8 models, Autobrake has been added to BLIS with Cross Traffic Alert, and Haptic Feedback has been added to Pilot Assist.
New Colors added are Thunder Grey Metallic, Pebble Grey Metallic and Birch Light Metallic.
New interior options include Midnight Zinc and Slate Grey Tailored Wool Blend upholstery options, Slate Grey leather, Blond Leather in Charcoal Environment (R-Design), Grey Ash wood trim and Black Ash wood trim.
A new Luxury Package is also available that incorporates a Nubuck headliner, front and rear grab handles in leather and massaging front seats.